Five Question Friday - Fall, Pot Luck Dish, & Grammar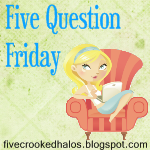 Rules for 5QF:
Copy and paste the following questions to your blog post, answer them, then watch for the linky post to appear Friday and LINK UP at Five Crooked Halos!
Oh, and remember (pay close attention...this is the important one)...HAVE FUN!
What is one grammar issue you cannot let go without correcting?
I am the first to
admit
, I am a horrible speller, and my
grammar
isn't
stellar
either! I just ask for your understanding!
What's your favorite thing about fall? I love Fall, but hate my allergies that come with it! I love the brisk air, pulling out jeans and pants, making chili and corn bread, pumpkins, and the colorful leaves as we drive around town. The best part? Football, as I love MIZZOU college football, tailgating, and cheering for the Baltimore Ravens! There is a passion for Fall sports, and I look forward to it each year!
What's your favorite dish to take to a potluck? I love to bake, so I always ask if I can bring a dessert, my favorites include Gooey Butter Cake or cookies. If I have to bring a side or main dish, then I pass the torch to my husband!
When do you start your holiday (Christmas) shopping?
Every year I tell myself to start earlier than November, but it never fails I fall into the stressful pattern of shopping
until
a few days before Christmas. I have two gifts tucked away, but they are very small items I was able to find on clearance! I am always looking for a bargain, and might venture out the day after Thanksgiving...but I
haven't
done that in a few years!
Did you move homes a lot growing up? Yes, we moved a lot when I was a child, I attended four different grade schools. We finally settled down when I entered the fifth grade, and my parents did not move again till after I was out of the house and married.