Food For Thought - Support America's Farmers
This post was created in partnership with America's Farmers. All opinions are my own.
My teens years were spent growing up, in a small farming community in Missouri. I was always amazed by the teenagers in my classes who would arrive with mud covered boots, the scent of fresh earth radiating from their denim jeans, or their need to take off of school during the fall harvest. I was a "city girl," who was transplanted, into the middle of nowhere. The idea of farming, the way of life, and the means to support a family via growing crops was just seemed so foreign to me!
I never quite understood that the young men in my classes, woke before dawn to turn on tractors before meeting the school bus. While I slept all snuggled in the warmth of my bed, the star of our basketball team would help her father with whatever was needed at their farm. School was very important, sports were fun, but farming never rested, and still had to find a place within their very active lives. Farming meant survival of our local families, and the amazing locally grown food and crops were in every aspect of our lives.
My own family would grow alfalfa in our fields, that would feed the horses we raised in our barn. The countless bales of alfalfa that needed to be tossed onto a trailer after bailing, and then stored in the high recesses of our barn, would help me to understand just a fraction of the hard work that my friends families labored to do on a daily basis. I finally would come to understand that it truly takes love, patience, dedication, sweat, and hours of hard work to produce the corn, soybeans, winter wheat, alfalfa, and numerous other crops in our small farming community. Have you given much thought to the food that is on your table? How can you support America's farmers? Have you taken the time to really thank a farmer or learned how your local farmer can be supported?
Please check out America's Farmers for more information on how you can support your local farmers. Support the families who grow crops, the food we eat, and the amazing sources of energy which are American grown. These men, women, and families need our continued help and support, as they are our American Farmers.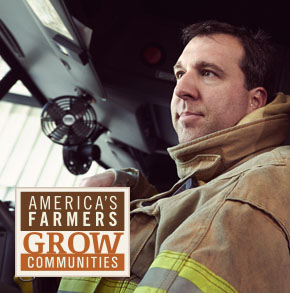 *This post was created in partnership with America's Farmers. All opinions are my own.